This trip will allow our guests to experience herds of the wildebeests still occur between central and the western corridor of the Serengeti national park, between April and June is the best time to visit due to its mass groups of the animals meandering lines.
TRIP Summary,
Private Safari
Duration
4 Nights 5 Days,
Destination:
Lake Manyara National Park, Serengeti National Park & Ngorongoro Crater.
Level of Accommodation:
Midrange Tented Camp and Lodges.
0: Upon your arrival in Kilimanjaro International Airport you will be met by our airport representative and transferred to Arusha Tourist Inn for briefing and overnight stay before embarking on your timeless adventure.
1Day 1: Arusha Lake Manyara National Park
Driving distance 120km 1.58hr,
After breakfast you will drive to the Lake Manyara park, the shallow alkaline water lake based at the foot of the Great Rift Valley, underground water forest, acacia woodland, marsh land and open grasslands giving it the greatest nature spectacles setting, the vast flocks of lesser flamingos and prolific wildlife offers a whole range of attractions for adventurous travelers. Apart from inspired setting the park also fame for its tree climbing lions, Elephant, giraffe, buffalo, wildebeest, water buck, impala, zebra, larger hippo schools, troops of olive baboons, blue monkeys and diverse bird life
Picnic lunch will be served in the park thereafter you will move on remarkable game drive before heading to the lodge for dinner and overstay.
Overnight stay at County Lodge / Marera Valley Lodge
2Day 2: Country lodge - Center of Serengeti National Park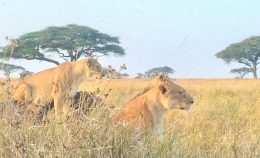 Driving distance 176km 3hr,
Safari start after breakfast past south-west forested rim of the Ngorongoro crater towards the magnificent vast open grasslands of the Serengeti, sprinkled with massive scattered Granites rocks formation, very often favored by predators as hideous place for afternoon sleep,in the afternoon you will stop for picnic meals, thereafter you will move on game drive past some pristine sceneries towards the center of the park 'Seronera. After a cheerful drive in the evening time you will be entering under canvas for tantalize dinner and overstay.
Overnight stay at thorn tree tented camp, / Hippo Trail Tented Camp
3Day 3: Full Day Game Drive Serengeti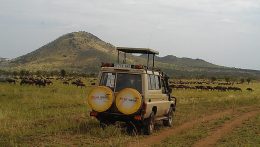 After breakfast you will leave the camp for a full day game drive, between April and May the central and western corridor are the best locations for the projections movements of the Great annual migration of herds of wildebeest and zebra, the productive grass and water still persist on the area is all about the hesitant wildebeest concern and allows unsurpassed moments and photographic opportunities for adventures.
Apart from the movements of the wildebeest the center valley has high concentration of predator life- include lions the rare Leopard and endangered cheetah, picnic lunch will be served in the bushes, thereafter game viewing will move on, as the evening set in, you will return to the camp for dinner and overstay.
Overnight stay at Thorn Tree Tented Camp / Hippo Trail Tented Camp,
4Day 4: Serengeti National Park - Ngorongoro Crater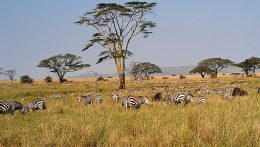 Driving distance 130km 3hrs
We has decided going out at 6:00 am, In clear morning a vast open plain of the Serengeti offer awesome sunrise, also as the sun rays hits the ground provide the greatest chances for seeing nocturnal life, thereafter a remarkable morning of drive, you will return to the camp for breakfast.
By then set off again for more game viewing from the pristine and abundant wildlife center valley, past southeast open grassland towards the Naabi main entrance gate, after the exit formalities the Serengeti, drive will heading to a Maasai village leaning and enjoying their ways of living, before drive to the rim of the Ngorongoro Crater and to arrive at the lodge for dinner and overstay.
Overnight stay at Rhino lodge,
5Day 5: Ngorongoro Crater - Arusha town
Driving distance 176km3hrs,
Day five, is visit the floor, the world largest intact caldera, after early breakfast, the crater shelters one of the most beautiful heavens anywhere, black rhino inhabit green bushes and forested areas, high density predator roam its land, among them lions, hyenas and jackals, as well as numerous species of grazing animals.
Picnic Lunch will be served at the crater floor, thereafter a rewarding game drive, you will ascent its wall heading back to Arusha
Overnight stay at Arusha Tourist Inn or transferred to Kilimanjaro International Airport and fly back home or to Zanzibar if other excursion extension will be selected.
Seasons
Number of guests
High season
Solo
2-3
4-6
16 May –14 March
 3,402
 2,188
 1,941
16 May -14 March
Us dollars per person
Low season
15 March -15 May
3,265
2,118
1,871
4WD Land-Cruiser fitted with popup roofed, seat belts, window seat, radio wave, cool-box and outlet multiple for recharging battery and device,
Accommodation a night upon your arrival in Arusha and after a safari in bed and breakfast (bb) basis,
All transfers upon your arrival and departure from Kilimanjaro International Airport, or Arusha domestic Airport.
Accommodation while on safari in full board (FB) basis,
All National Park fees,
Government Taxes,
Professional English speaking guide,
Unlimited mineral water while on safari,
Soft drinks ''soda'' on each day of safari,
Complementary to visit a Maasai village,
Excursions and activities not listed in the itinerary,All Items of Person Natural and Gratuity.
Tip.