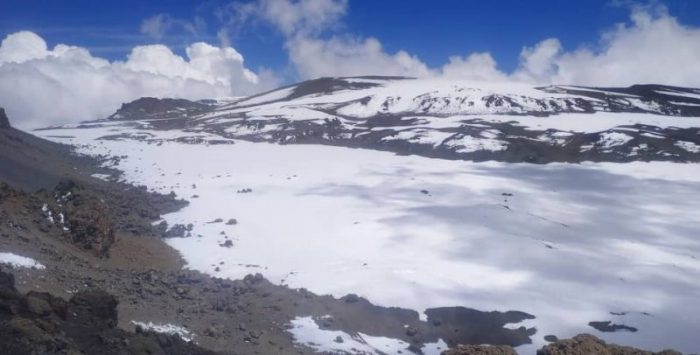 Kilimanjaro is the Africa's highest mountain and the highest free standing mountain in the world. Its permanently snowcapped peak rises from the equator, only 290km from a tropical coastline, defying all conventions maintaining that snow is found only in higher altitudes. The almost 6km high top was made after a series of volcanic eruptions about 1 million years ago. Kilimanjaro is still active. As late as in the 1940'sactivity was registered.
The base of this immense mountain has a diameter of about 40 miles. Elephants, leopards, lions and colobus Monkeys are among the resident animals in this park. The encircling rain forests ensure the fertility of the lush, lower lying shamba country, Where the people cultivate coffee, maize and bananas. The trek takes five to six days, if are well fit, can complete the trek within four days. In 1889, the first Europeans reached the Summit with help of native guides and porters.
| Month | Temperature | Precipitation | Cloudiness | Crowds |
| --- | --- | --- | --- | --- |
| January | Warm | Medium | Low | High |
| February | Warm | Medium | Low | High |
| March | Moderate | High | Medium | Low |
| April | Moderate | High | High | Low |
| May | Moderate | High | High | Low |
| June | Cold | Medium | Medium | Medium |
| July | Cold | Medium | Low | High |
| August | Cold | Low | Low | High |
| September | Moderate | Low | Low | High |
| October | Moderate | Low | Medium | Medium |
| November | Moderate | High | Medium | Low |
| December | Moderate | Medium | Medium | Medium |
WHAT TO BRING FOR A MT. KILIMANJARO TREKKING
1- Water proof jacket, breathable wit hood
1- Insulted jacket, fleece or soft shell
2- Long sleeve shirt, light-weight, moisture-wicking fabric
1- Water proof pants, breathable (side zipper recommended)
1- Hiking pants
1- Fleece pants
1- Short (optional)
1- Long underwear, moisture-wicking fabric
3- Underwear, moisture –wicking fabric –recommended
2- Sport bra- woman
HEAD WEAR
1- Brimmed Hat, for face covering –optional
1- Knit Hat, for warmth
1- Balaclava or Buff, for face covering – optional
HAND WEAR
1- Gloves, warm-water proof, broken in
1- Gloves, thin
FOOT WEAR
1-Hiking boots, warm, water proof, broken in
1- Gym shoe, to wear at the camp- optional
3- Socks, wool or synthetic
1- Guitars, water proof –optional
ACCESSORIES
1- Sun-glass or Goggles
1- Backpack cover, water proof –optional
1- Water bottle – Nalgene, 32 0z
1- Water bladder-Camel back type, 3lts
1- Towel, li, quick dry-optional
1- pee Bottle, to avoid leaving tent at night-recommend
Staff sacks, dry Bags or plastic bag, various sizes to keep gear dry and separate
EQUIPMENT
1- Sleeping Bag, Warm, four seasons
1- Trekking poles, Collapsible –Highly recommended
1- Head lamp, with extra batteries
1- Duffel bag, 50-9 L-Capacity, for you to carry your personal gears
OTHERS
- Toiletries
- Prescriptions
- Lip balm
- Insect Repellent, contain Deep
- First Aid Kit
- Hand sanitizer
- Toilet paper
- Wet wipes –Recommended
- Snacks, light –weight, high calorie, high energy
- Electrolyte, powder or tablets – optional
- Camera with extra batteries
PEPER WORK
Passport
Visa available at the airport upon your arrival
Insurance documents
The most common mistakes that the climbers make is that they over pack and bring way too much gears,
Be selective in what you carry with you, please not that potters are limited to carry 33lbs-15kgs of your personal belongings, everything the potters will carry for you between campsites should be placed into duffel bag, including the sleeping bag, but it's ok to pack the sleeping bag separately if necessary you take a sleeping bag from us, not that the bag weigh 5lbs 60z-2.5kg and this weight doesn't count against 33lb -15kgs.
If you will have access weight you will be required to hire an additional potter, it's rare to require an extra potter and should happen only in special cases, such as you expecting to bring everything you need,
All extra luggage, items you will not use on your climb such as safari clothing, gears and equipment, can also be safety store at the hotel or our office.
PLASTIC, recyclable water bottles are not allowed in your climbing, water should be carried in Nalgene bottles, water bladders or similar devices. You should be able to carry 3-4 liters of water with you at all the time.
We recommend not to carry any alcohol with you, it is illegal to have alcohol during your hiking, our staff will not carry it for you, beside drinking and high altitude do not mix at all.
Checked language on airplanes can get lost or delay on the way to Tanzania, you should prepare for this possibility by carrying on items that are essential to your Kilimanjaro climbing while gear and equipment can be replaced in Tanzania, prior to your climb. If your luggage is lost or delay please notify us immediately upon your arrival so we can assist you in assembling the necessary gears.
Not that these people carry second hand items that may not be up to western standards. Feline Safaris Tanzania ltd we can not guarantee the fit, quality and functionality of items found in local shops.
Therefore we highly recommend our guests to carry the most important pieces of gears listed above, as well as tipping crews at the end of the services.