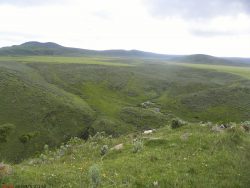 Oldonyo Lengai, 2,870 (9,650 ft) is an active volcano on the southern shore of Lake Natron, nested In the Great Rift valley. It is locally regarded by Maasai as a sacred mountain " mountain of God". A nearly perfect cone, it still erupts occasionally and you may have the opportunity to walk on still-steaming new ground.
5 Nights 6 Days Crater Highland Itinerary.
Day 1: Arusha - Ngorongoro, Driving Distance 2h75
A first day of a life time adventure start early in the morning from Arusha town, towards the crater floor of the Ngorongoro for a rewarded game drive, the crater occupied by many species of wild animals among them elephant, hippo, buffalo, eland, zebra, wildebeest, gazelle as well as predatory includes lion and hyena. Lunch will be served at the crater floor. By then you will continue on game viewing before heading to the basement of the mount Olmoti for dinner and overnight stay. Overnight stay at Olmoti Camp
Day 2: Olimoti Camp - Blat Camp, Walking Duration 5-6hr
You will leave the camp before sunrise for a hiking, and will take 45-minutes to summit on 3,700m above sea level, where stand stunning views of the Munge water fall and the Olmoti crater floor, a home to bushbuck, elands , buffalo, as well as species of birds and flowers, after enjoying its inspiring scenery and wildlife, it will take you another half on hour to returning to the camp for a breakfast, afterwards set out for more walking towards the Lolmalasin village, your walking boots will pound the awesome setting of the Embulibuli depression and to arrive at the camp as the evening set in. overnight stay at Blat Camp.
Day 3: Blati Camp - Embakai Camp, Walking Duration 5-6hr
After a breakfast you will setoff heading to an awesome rim of the Embakai Crater, nestled on 2,300m at the eastern atmosphere of the Ngororongoro highlands, the glorious region consist varieties of dry and evergreen trees, includes nuxia congesta and high land shrubs, in lucky and clear day as striking more eastern highland one can see the snow cape of the Mount Kilimanjaro, Mount Meru and the still active volcano of the Oldonyo Lengai, upon your arrival at the rim of the crater your eyes will be captured by a stunning nature dominated by an 85m deep and alkaline lake covering about 75% of its floor, you will spend the rest of a day relaxing at the camp and enjoying its spectacular scenery.
Overnight stay at the Rim of the Embakai Camp.
Day 4: Embakai Crater - Acacia Camp Walking Duration 6 - 7hr
Descent 300m towards the crater basement after an early breakfast, its floor covering 6km in diameter, is a home to abundant waterfowl and numbers of pink flamingo. Forest support waterbuck, bushbuck, leopard, turacos, variable sun bird, beautiful sun birds and so many others, thereafter learning and understanding its beauty it will take you 30 mts to ascent its wall, by then heading Mungoni plain, via some awesome landscapes of the Naiyobi depressions fame as a home to the Maasai tribe, overnight stay at Acacia camp. Behind Oldonyo Lengai Mountain
Day 5: Acacia Camp - Lake Natron, Walking Duration: 4 -5 hr
Another day of stretching legs along the escarpment of the Great Rift Valley, a walk will take you to the spectacular and un-fenced view of the lake Natron, the Oldoyo Lengai mountain and its surrounding, upon your arrival at the foot of the valley you will be met by a driver and drive to the camp for a hot lunch and siesta, before setout for a swimming at the water fall nestled few yards from the camp and return to your home for dinner and overnight stay. Overnight stay at Oldonyo Lengai World view Camp
Day 6: Lake Natron - Arusha Driving Distance 5 h 30
Safari start after a breakfast, heading to Arusha city via a shore of the Lake Natron, where the most east African flamingos breeding, it's shallow alkaline water encrusted by algae and zooplankton of which flamingos feed on. after learning and understanding its natural nature, the drive will continue following a road meandering along the floor of the Great Rift Valley and to arrive at the hotel for overstay as the late afternoon set in or transferred to Kilimanjaro International Airport and fly out of the country or to Zanzibar if more excursion extension will be selected
- All transfers upon your arrival and departure from Kilimanjaro Airport.
- 4wd Land-Cruiser fitted with opened roof for safari, radio wave, fridge and multiple outlet for recharging battery and device,
- Ngorongoro crater game drive,
- Transfers to a trailhead and back to Arusha.
- CAMPING GEARS; Quality Tents, Matts, Pillow, Sleeping Bags, Table and Chairs.
- Three meals a day. Breakfast, lunch and Dinner
- Unlimited mineral water while on walking safari.
- All park fees and government taxes,
- Donkeys to carry staff during walking.
- Professional and experienced Chief and walking guide,
- All accommodation while on walking safari in full board (FB) basis,
- Accommodation a night in Arusha prior walking and after a walking safari.
- All Items of person Nature and Gratuity

- All activities and excursion not listed per itinerary -Tips
-First aid kit, sun screen, repellant, sun glass, hurt, jacket,(rain jackets between Nov/jun) good walking boots. you need atlist two short trouser(pens),
-Per person= 2,518$

-Group of two people will be charge per person= 1,685$

-Group from 3 to 4 people will be charged per person= 1,352$