Kilimanjaro Climbing 7 Days 6 Nights Shira Route
Duration:
5 Nights 6 Days,
Destination:
Tarangire National Park, Serengeti National Park, Lake Manyara National Park and Ngorongoro Crater,
Accommodation Level:
Mid-Range
Essential:
Best time to visit is from June to February.
Day 0:
Upon your arrival from Kilimanjaro International Airport you will meet our airport representative and transferred to Kahawa House for briefing and overnight stay before embarking on your life time adventure.
Arusha / Londorossi Gate
Trekking distance 1-1:30hr-7km After a breakfast you will leave the hotel behind driving to the Londorossi gate, thereafter gate formalities you will drive towards the trailhead on 3407m, by then you will start walking across the moorland where provide open tussock grasslands, lava flows, heather shrub-lands, valley bottoms, clear mountain streams and stands of giant heather and to arrive at the rim of the shira plateau, a first camp nestled at the center of Shira one plateau on 3407m, you will overstay at the same elevation as stating point and acclimatizing before the next day of stretching legs on higher elevation.
Overnight stay at Shira 1 Camp 3407m
Shira 1 / Shira 2 Camp
Trekking distance 10km 3-4hr
A hiking start after breakfast towards the rim of the shira cathedral on 3,740m where boast outstanding landscapes, you will continue with a trek and to be arrive at the camp in the afternoon, after lunch you will overstay acclimatizing and enjoying the awesome landscapes of the surrounding nature and far below, before the next day of striking on 4,550m.
Overnight stay at Shira two Camp on altitude of 3840m.
Shira 2 / Barranco Camp
Trekking distance 10km 5-6hr
Another morning of gentle ascent and awesome sceneries, you will depart after breakfast, this track will take your walking boots pounds through the higher elevation, from the Shira plateau past by the eastern breach and the Lava Tower nestled on 4,550m, famous as Shark tooth, thereafter you will cross the junction between arrow glacier and Baranco before descent a spectacle valley heading to a camp, where offers extensive view of the plain far below, retuning to a lower elevation will help to acculturate bodies, especially for those did not trained well prior traveling to Tanzania.
Overnight stay at Barranco Camp 3,840m,
Barranco / Karanga Camp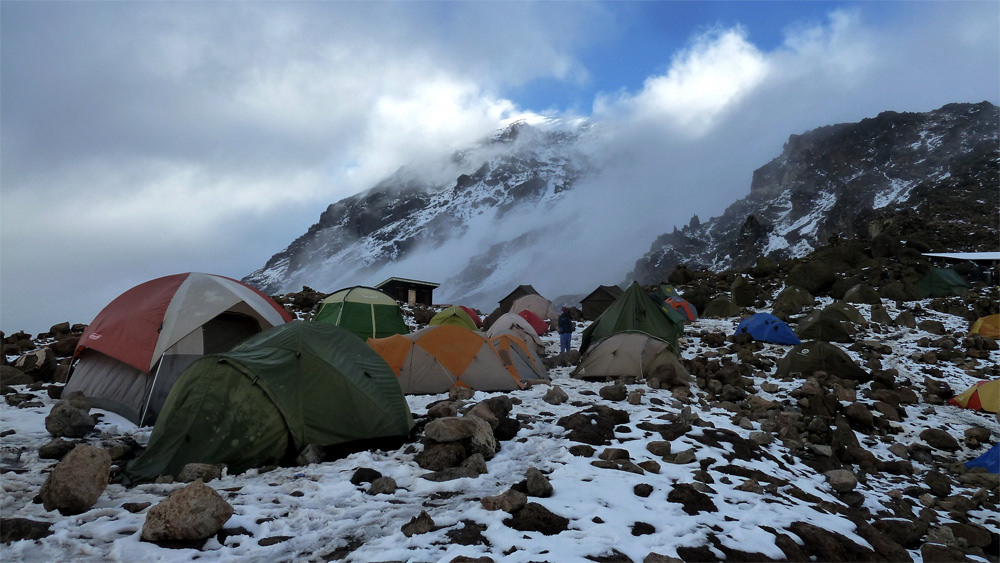 Trekking distance 5-6km: 3:30-4hr
After your body relax and acclimatized you will leave the last wet area behind after a breakfast, past by a steep ridge, from the Baranco wall to Karanga Valley, enjoying the marvelous view of a waterfall below and dramatic glacier above, to arrive at the camp for lunch and having siesta for the rest of the day.
Overnight stay at Karanga Camp 4,000m,
Ngorongoro cater / Marera Valley Lodge.
Driving distance 20km,
Drift down to the crater floor, optional, perhaps after an early breakfast or carry picnic breakfast and serve it at the crater floor.
The world's largest un-flooded & unbroken caldera intact, its wealth pasture and permanent water provide life to diversity species of wildlife, includes wildebeests, zebras, gazelle, buffaloes, eland, hartebeest, warthog, elephant, hippo and waterbuck. The crater floor offer great chances for seeing the rare black Rhino. Lions and hyenas live abundant with other wildlife. As the afternoon set in picnic Lunch will be served at the crater floor, then move on game drive before ascent its wall drive to the lodge for overstay,
Marera Vallel Lodge,
Karanga / Barafu 4,600m,
Trekking distance 4km 3-4hr
As morning set in you will leave the camp after a breakfast heading to Barafu, landscapes differ from other camps also temperatures drop as you hike higher up Kill, to arrive at the camp in lunch time and overstay, dinner will be served early, to avoid exhausting we recommend our climbers to rest up before summit challenges, by midnight you'll wake up and set out for summit, take Approximately 6-7hr.
Summit / Mweka Camp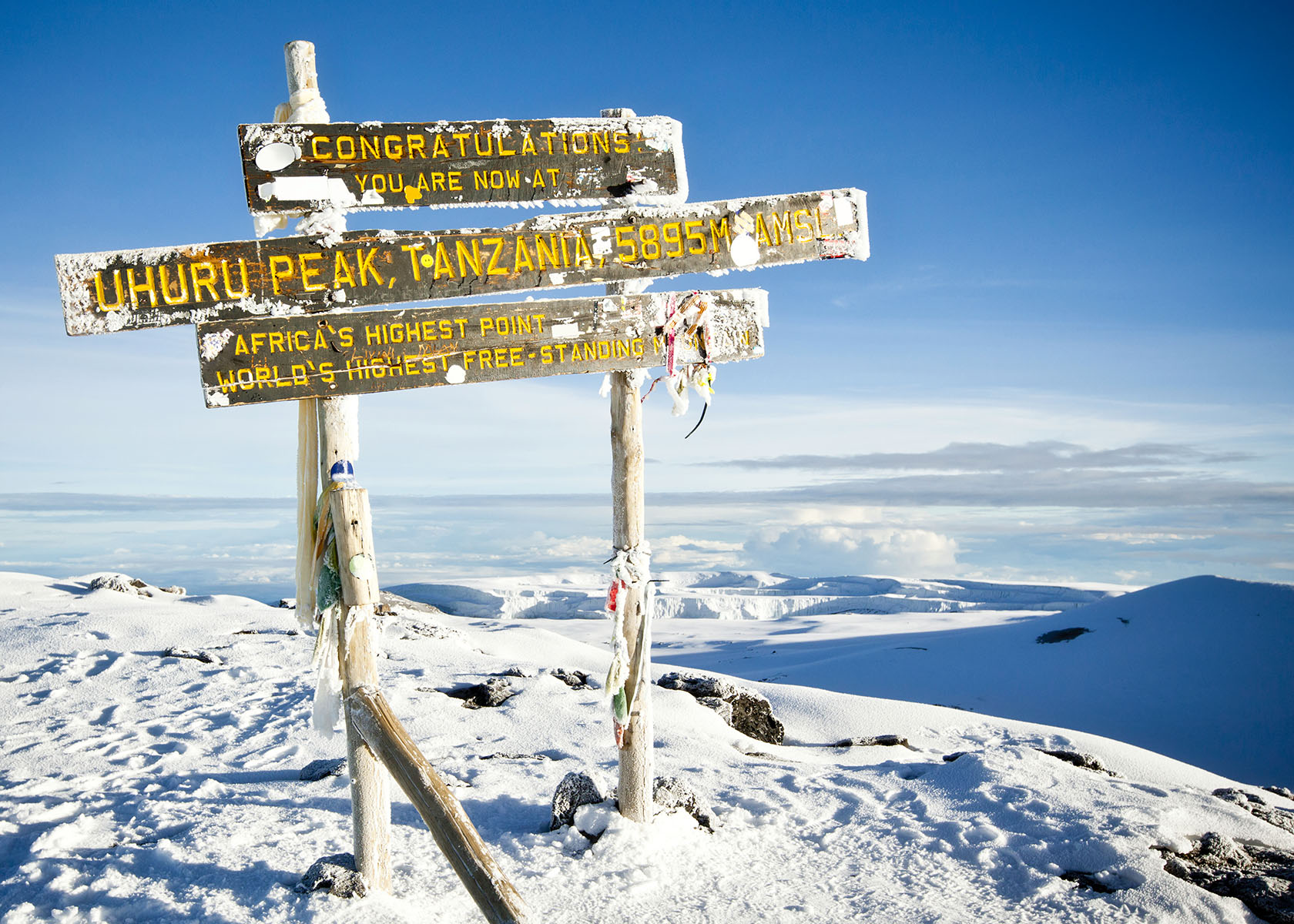 Trekking distance 12km-7 hours
The morning of day 6 display a spectacular glacier that's will never fail to enthrall you as standing on top of the roof of the Africa, after awe-inspiring views you'll begin your descent via the Barafu camp for a lunch and short break, after a break you will continue climbing down towards the spectacular edge of the Mweka forest for overstay.
Overnight stay at Mweka camp 3,100m,
Arusha -Kilimanjaro International Airport
An option of adding more days in your vacation and exploring the northern Tanzania national parks or transferred to Kilimanjaro International Airport and fly back home or to Zanzibar beach.
| VALID FOR TRAVEL | 2020/2021 |
| --- | --- |
| Price for 2pax | US$1,980 per person |
| Price for 4-8pax | US$ 1,800 per person |
All activities and excursions not listed per itinerary
All Items of person nature and gratuity.
Gears for your hiking like-Sleeping bag, hiking poles
Tip.
All transfers upon your arrival and Departure from the airport
Mountainous crews-Guide, assistance guide, chef and potters
Two nights of accommodation in Arusha prior and after trekking, in bed and breakfast (bb) basis
Boiled water in the mountain
Quality camping gears tents, mattresses, table and chairs
All meals on the mountain (breakfast, lunch and dinner.
Emergency oxygen gases
All transfers to Mt Kilimanjaro and back to Arusha after hiking
All hiking park fees, rescue fees and government taxes