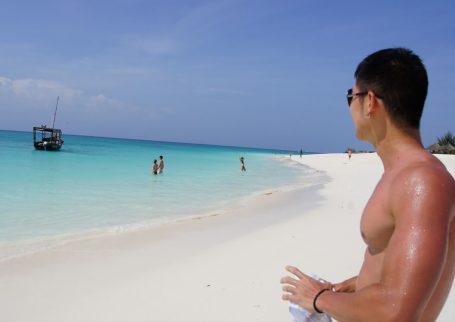 This exotic spice island combines mesmerizing beauty with the outstanding hospitality of its colorful people. Zanzibar is located about 35 kilometers off the coast of Tanzania. It comprises the 1,464 square kilometer main island of Unguja (also known as Zanzibar); the island of Pemba (868 – square kilometers), which is located about 50 kilometers north of Unguja and famed for its deep-sea fishing and scuba-diving; and a number of smaller islands. Zanzibar is truly the jewel of the Indian Ocean.
Kiswahili is the main language and more than 90 percent of the population is Muslim. Visitors are advised to dress modestly in public places.
Zanzibar is warm almost all the year round with heavy rains from March to May. February is the hottest month with a maximum average temperature of 29 degrees Celsius, while in August the temperature falls to 21 degrees Celsius.
The city of Zanzibar consists of two distinct areas – Stone Town and Ngambo.  
Places to Visit - Stone Town Cultural Center
Stone Town is the old city and cultural heart of Zanzibar. It is a place of winding alleys, bustling bazaars, mosques and grand Arab houses.  You can spend many idle hours and days just wandering through the fascinating labyrinth of narrow streets and alleyways.
Stone Town was recently and deservedly declared a World Heritage Site by UNESCO. Most of the houses that can be seen today were built in the 19th century when Zanzibar was one of the most important trading centers in the Indian Ocean region.
 Hotels in Stone Town include the Zanzibar Serena Inn, Tembo House Hotel, Double-Tree by Hotel Hilton Zanzibar and The African House Hotel. As you walk through the town, please remember that Stone Town is a real community, where real people live and work. Join us Feline Safaris Tanzania Limited, the best way to have a safe educational tour. 
A spice tour is a specialty of Zanzibar and involves a walk in the western and central regions of the island through plantations, private gardens and forests. There are more than 50 different spices and fruit – cinnamon, pepper, ginger, tamarind, coffee, ylang-ylang, coco, and sugarcane. Coconuts are another main produce of the archipelago.
Hotel accommodations span the range of exclusive private island resort to comfortable small guest houses.