Tanzania National Parks and other destinations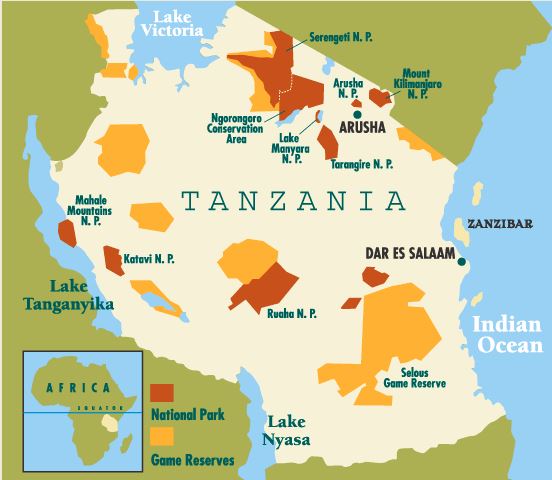 Tanzania National Parks Map
Home to 'the Big Five', the tallest mountain in Africa and a whole host of big experiences, Tanzania is a must for every African adventurer.
A Tanzania adventure tour takes you to one of Africa's most diverse countries – see the ice-capped Mount Kilimanjaro with its lower lying rainforests, Zanzibar's sandy beaches, the Serengeti's savannah plains and the Ngorongoro's mopane woodlands and salt pans. It is not just the environment, but the cultural diversity, which is one of Tanzania's most pleasant and refreshing surprises like Arabic and Indian influences in Dar Es Salaam and Zanzibar. Wander through the labyrinth streets of Stone Town on Zanzibar, the 'Spice Island', barter for spices or visit Prison Island to learn more about the slave trade.
Tanzania is an East African country known for its vast wilderness areas. Include the plains of Serengeti National Park, a safari mecca populated by the "big five" game (elephant, lion, leopard, buffalo, rhino), and Kilimanjaro National Park, home to Africa's highest mountain. Offshore lie the tropical islands of Zanzibar with white sand beaches, and Mafia, with a marine park home to whale sharks and coral reefs.
Each of Tanzania safari parks is uniques and offers it's special taste of adventure. We can help you choose the best destination for your next Tanzania safaris that will compliment your preferences and desire or you can choose your safari style.