Kilimanjaro Climbing 6 Days 5 Nights Marangu Route
The Marangu route is one of the most classic and popular trail to the top of Mt. Kilimanjaro, and the only one provides mountain huts for the duration of the hike. The Marangu route usually takes 5 days 4 nights round trip, still we provide 6 days 5 nights round trip to add acclimatization with an extra day at Mandara hut.
Mandara Hut: 2,715m: A wooden hut, a huge cabin modified with a first floor dining room and an upstairs dormitory, equipped with a bank bed and mattresses, accommodate up to 8 trekkers in each small hut, water are piped from the spring, flush toilets are available behind the hut.
Horombo Hut: 3,705m: The hut similar to Mandara, fitted with bed and mattresses, water are piped from the above stream, flush toilets provided within the complex of small huts.
Kibo Hut: 4,703m: The stone house with a dining room and a number of dormitory rooms, fit out with bunk bed and mattresses, also platform toilets are available.
Trekking summary
Destination: Marangu Route
Duration: 5 Night 6 Days
Private groups
Day 0: Upon your arrival at Kilimanjaro International Airport you will be met by our airport representative and transferred to a hotel in Arusha, for pre-briefing and overnight stay before set out for a lifetime adventure.
Marangu Gate – Mandara Hut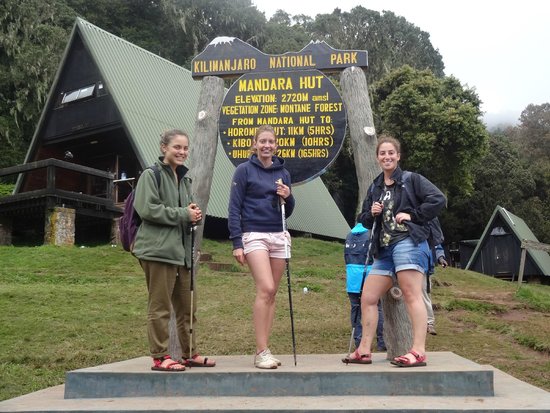 – Elevation: 1,860 to 2,715m
– Hiking Duration: 5hr
– Distance: Approximately 8.1 km
– Habitat: Montane Forest
Departure is after breakfast, drive from Arusha to Kilimanjaro park eastern gate, after entry formalities and organizing the belongings, you will start ascent to Mandara Hut, going through the rain forest, with its high probability shower rain, is our recommendation to carry a rain jacket with you, this side of the mountain is a favorite habitat to the most of the Kilimanjaro's wild animals. An outstanding forest trail, diverted to the left just few minutes after the main gate, by then stretch uphill along undergrowth bank stream, you will continue learning and understanding its glorious fauna and flora, before you opt to either return to the main trail or stay on diversion terrain towards Mandara, to arrive at the camp for siesta and overstay.
This being the first group's night at this elevation, we advise that you follow the bellow hiking rules from here on:
– Do not consume any alcohol and minimize your caffeine intake
– Drink enough water, at list 4 liters a day
– We encourage you to use Diamox in the mornings prior the days climb, this reduces altitude sickness symptoms. Consult your doctor on the use of Diamox prior travel to Tanzania
– We encourage you to follow the advice, if any altitude sickness, symptom occurs consult your guide.
Overnight stay at Mandara Hut 2715m
Mandara Hut to Horombo Hut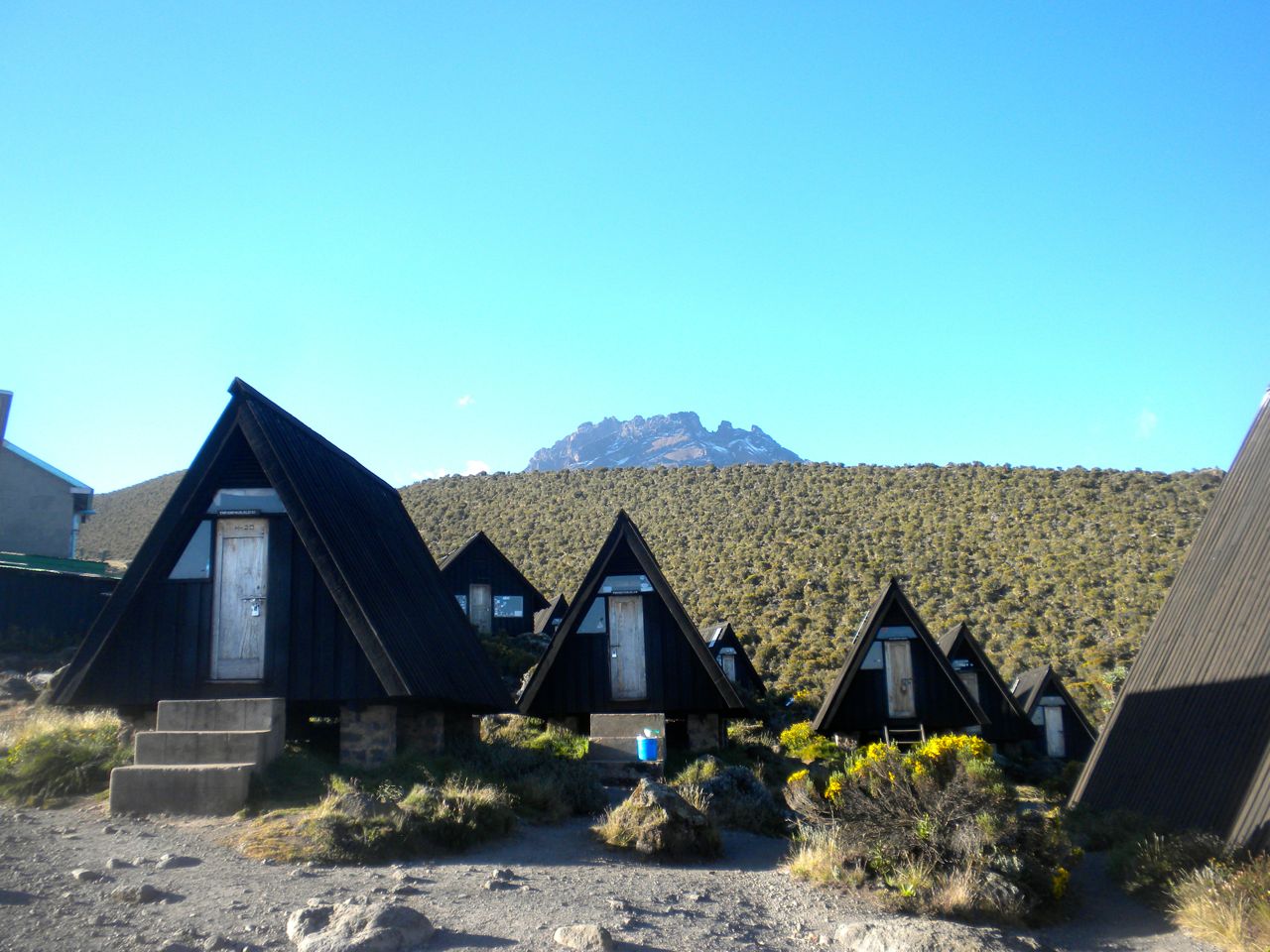 – Elevation: 2,715m to 3,705
– Hiking time: 6h
– Distance: Approximately 11.6 km
– Habitat: Moorland
The trail from Mandara hut goes through a few minutes forest to the basement of the Maundi crater, before rise into a trail meandering in the moorland. It is well worth to take a short roundabout route, scramble up the rim of the Maundi crater for a first stunning view of the summit. As the trek cross the moorland you will have great opportunities to learning some of the Kilimanjaro's glorious plants, includes the endemic giant lobelia and the giant groundsel, after a lovely day of understanding its beauty, you will be entering the Horombo Hut for a siesta and overstay before dinner.
Horombo hut (3705m) – Acclimatisation day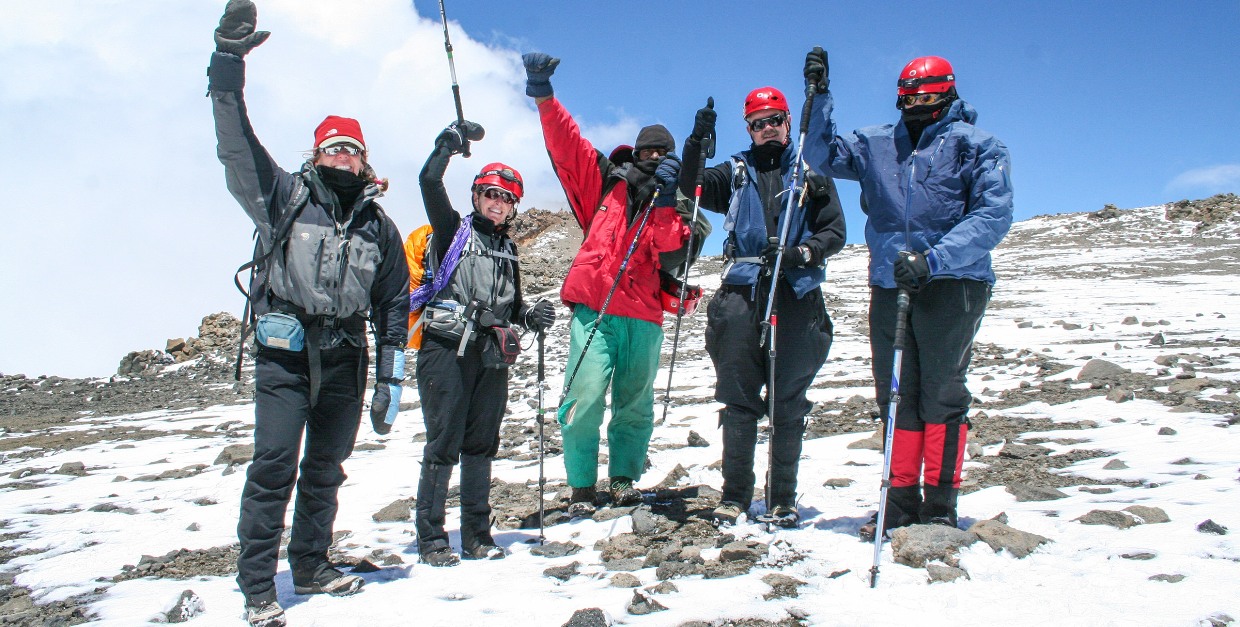 Elevation:
3,705m
Horombo has sets of huts nested on a plateau, very often the area incrusted with number of adventurers of about 120 people, plus guides and porters, with an atmosphere of adventure and excitement. This is a stopover for both ascending and descending adventurers.
We strongly recommending this extra day at Horombo, and a day hike, to Mawenzi hut via Zebra Rocks, 3 hours in ascent and 1h 5 descend back to the camp, the stay and a day hike will further assist the process of acclimatization. All meals for the day are provided at Mandara Hut. Retire to bed early and get a last long and excellent night sleep, because the following nights will provide you less sleep due to summit attempts.
Horombo hut (3705m) – Kibo hut (4730m)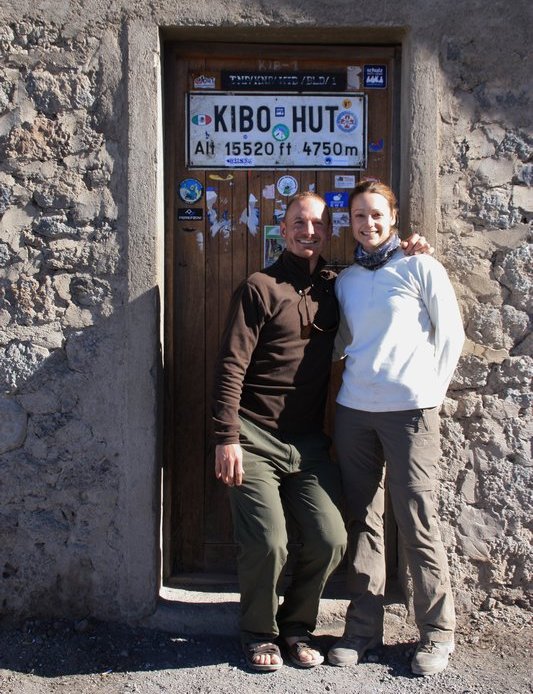 – Elevation: 3,705m to 4,703m
– Hiking Time: 6h
– Distance: Approximately 9.6 km
– Habitat: Alpine desert
You will set-off after breakfast, continue with a trek along the Alpine desert. There are two trails to the Saddle, an upper route on right hand and lower route on left hand. The upper one is stony and eroded, is very familiar as the one you took on previous day to Mawenzi, in your acclimatization hike.
We recommend you to take the lower trail, is the easiest and nearly an hour shorter, so will give you enough time to relax before your summit attempt, it also crossing the last water spring on 4130m. Opt to fill your water bottles with all the water will be needed for two nights before returns to Horombo, otherwise you will have to buy Mineral water at Kibo hut. We remind you not to rush during your hiking and please drink enough water to avoid dehydration!
By then you will be entering the barren Alpine desert where Kibo hut nested, the house has no water pipeline like the previous one, It is however possible to buy mineral water and soft drinks at the camp office. There are platform toilets behind the hut.
Nearly1195m away from the summit, the same night you will set out for a final ascent. Organize your equipment, hiking pole and thermal clothing for your summit bid. This should include the replacement of your headlamp and camera batteries make sure you have a spare set of battery as well. To avoid freezing is wise to carry your drinking water in a thermal flask. We recommend you to go in bed early, at list round 19h00, before midnight summit attempts.
Kibo hut (4730m) – Uhuru Peak (5895m) – Horombo hut (3705m)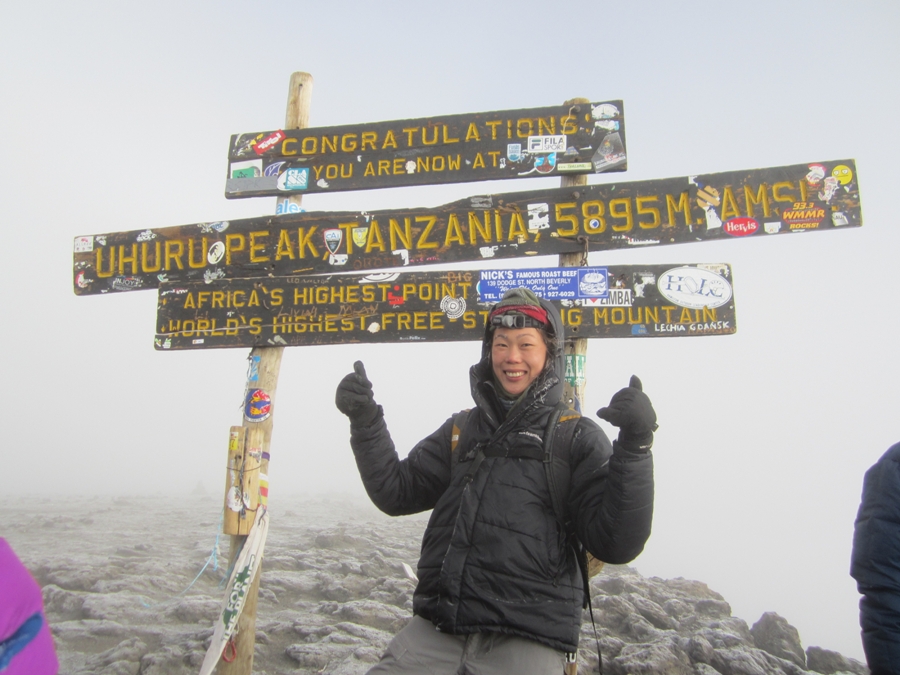 –
Elevation:
4,703m-5,895m- 3,705
–
Hiking time:
7 to 8 hours to reach Uhuru Peak, 6 to 8 hours to descend to Horombo
–
Distance:
Approximately 5.4km ascent and 15 km descent
–
Habitat:
Stone scree and ice-capped summit
Your guide will give you a wakeup call at 00 h30, you will set out after a cup of tea and biscuits, towards the summit via a rocky path to the Hans Meyer Cave on 5150m, the excellent resting spot. The zigzag trail to Gillman's point on 5 681m, this portion of the treks is steep, also covered with stone scree, requiring a lot of physical and mental effort.
From Gillmans Point your walking boots will hit on snow, all the way up the roof of the Africa. Total exhilaration and satisfaction – you made it. No other things to do, than taking your breath and celebrate taking stunning sunrise photos, before the 3 hour descent back to Kibo hut. After a short relax you will setoff, ascent 3 hours down to Horombo hut, descent to Horombo hut will be surprisingly fast compared to the ascent, as you entering the Hut you will spend the rest of the evening celebrating in your last dinner and overnight.
Horombo hut (3705m) – Marangu Gate (1860m)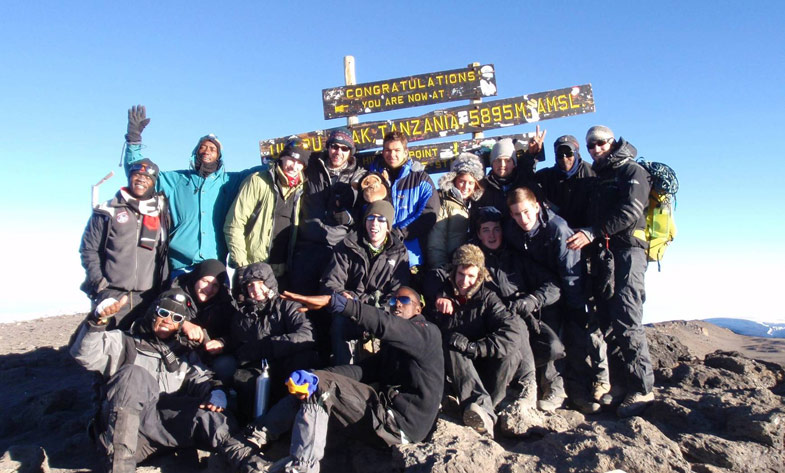 – Elevation :3,705m to 1,860m
– Hiking Time: 6h
– Distance:19.7 km
After breakfast you continue your descent past Mandara hut to Marangu gate. Here again, you are at Marangu Gate for exit formalities, all adventurers made to the summit will receive their summit certificates. Adventurer who's reached Gillman's Point on 5685m are issued with green certificates and those reached Uhuru Peak on 5895m, will earn gold certificates, by then you'll tip the guide and porters thereafter drive back to Arusha for a long overdue hot shower, dinner and celebrations!! Overnight at Arusha Kahawa Hotel.
Arusha – Kilimanjaro International Airport
Day seven there an option of going on a wildlife safari or you will be transferred to the airport and fly out of the country or to Zanzibar if more excursion extension will be selected. 
| VALID FOR TRAVEL | 2020/2021 |
| --- | --- |
| Price for 2 - 3 pax | US$ 1,910 per person |
| Price for 4-8pax | US$ 1,705 per person |
-Rescue fees
-All Park fees, 
-Clean, purified drinking water,
-All transfers mentioned per itinerary,
-Quality Mess tents with table and chairs,
-Guides, Porters, cook salaries and park fees,
-Professional, experienced, mountain guides
-Large portions of fresh, healthy nutritious food.
-Accommodation a night upon your arrival in Arusha and after a trek in bed and breakfast (bb) basis
-Tips,
-All Items of Person Nature and Gratuity,
-Excursions and activities not listed in the itinerary,