Kilimanjaro Climbing 7 Days 6 Nights Lemosho Route
Lemosho route is almost similar to the Shira trail, except the trailhead of the Lemosho attacks the mountain from the lower elevation, the seven day variation is preferred over the six day option because it breaks up day two into two days, provide good acclimatization and more slight ascent. On the seven day route, you'll walk from Forest Camp to Shira Camp 1, on day two, a reasonable altitude gain up to 2000ft. Then on day three, you continue from Shira Camp 2 to the little used Moir Hut13800ft. Overall the exposure to this altitude will help body prepare before set out for higher elevations.
However a hike from Barranco to Barafu followed by the summit attempts, are similar from the six day variation, Schedule is still very tough, though the extra day on the mountain, on seven day program, will help hikers tackle the exhausting itinerary better than those who opted for the six day route.
Duration: 6 Nights 7 Days
Accommodation: Midrange Public Camps
Private Groups
Arusha 5400ft to Londorosi Gate 7800ft to Forest Camp 9500ft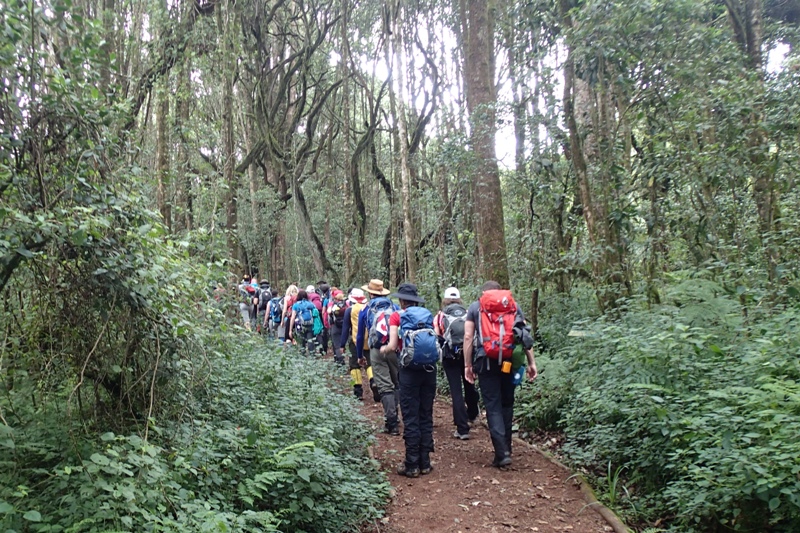 • Distance: 6 km
• Duration for Hiking: 3-4 hours
• Habitat: Rain Forest
Departure is after breakfast from your hotel in Arusha, drive to Londorossi Gate in the eastern side of Mt. Kilimanjaro, where you will complete entry formalities. By then drive to the Lemosho trailhead. Upon your arrival at the trailhead, you will be served a picnic lunch, thereafter commence through unspoiled forest which stretching to the first camp site, to arrive for overstay, siesta and enjoy the surrounding fauna and flora.
Overnight stay at Forest Camp 9500ft
Forest Camp 9500ft / Shira Camp11500ft
• Distance: 8 km
• Hiking Time 5-6 hours
• Habitat: Moorland
On this morning you'll leave the forest behind after breakfast, treks through the tall grass to the heather and volcanic rocks covered with lichen beards, picnic lunch will be served on the way.
As you ascend through the lush rolling hills and across streams, Shira Ridge will be captured yours walking boots, before going smoothly down to Shira 1 camp. The view of the summit beyond the plateau is marvelous.
Overnight stay at Shira 1 Camp
Shira Camp 1 11500ft to Moir Camp13800 ft
• Distance: 14 km
• Hiking Duration: 8-10hrs
• Habitat: Moorland
After breakfast your walking boots will pounds the Shira plateau almost throughout a day. It is a peaceful walk toward the glaciered peak, covering the plateau towards the Shira 2 camp on moorland meadows by a stream, thereafter you continue to Moir Hut, a small used site on the base of Lent Hills. The Varieties of walks are available on Lent Hills, making this an excellent acclimatization opportunity. Shira is one of the highest plateaus on earth.
Picnic lunch will be served on the way
Overnight stay at Moir Camp
Moir Camp13800ft to Lava Tower to Barranco Camp13000ft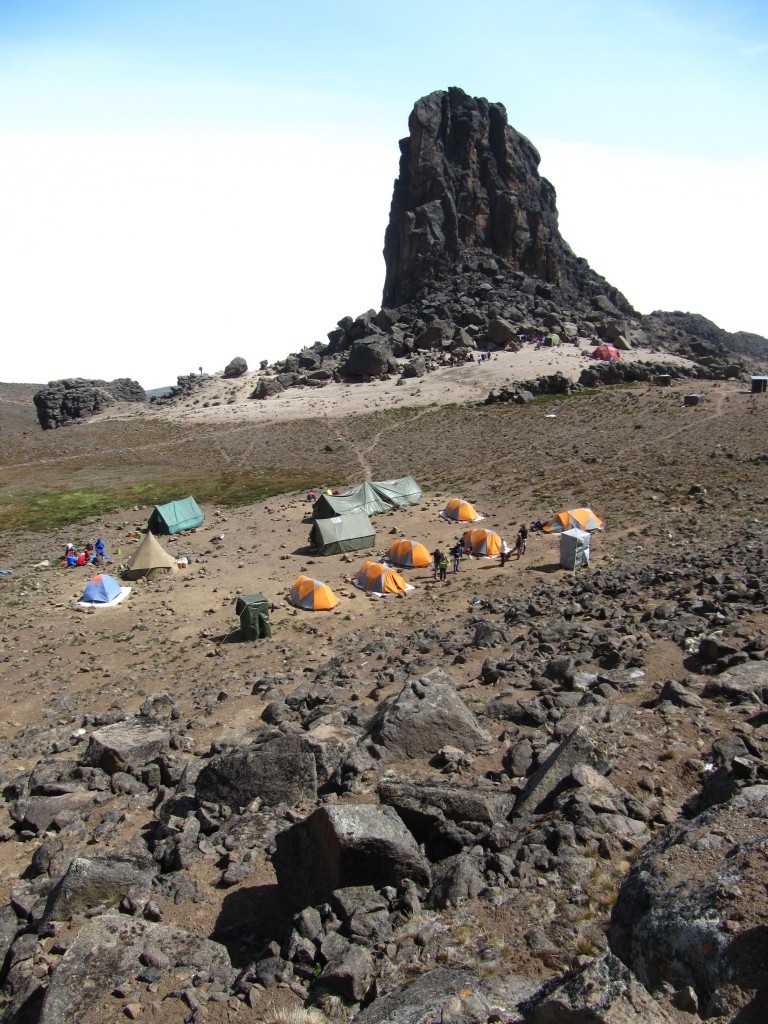 • Distance: 7 km
• Hiking Duration: 4-6 hours
• Habitat: Semi Desert
From the Shira Plateau, you continue to the east up ridge, via the junction towards the peak of Kibo. As you continue ahead the direction changes to Southeast towards a Lava Tower, fame as a Shark's Tooth, from here the trek will takes you to the second junction before entering the more high altitude of the Arrow Glacier on 16000ft, by then you'll descent to the Barranco Camp on1000ft for overstay. Although you end the day at the same elevation as when you started, this day is very important for acclimatization will help your body prepare for summit attempts.
Hot lunch will be served at the camp thereafter you will have a siesta and enjoy the surrounding nature and the view of the far plains bellow.
Barranco Camp 13,000ft to Karanga Camp to Barafu Camp15000ft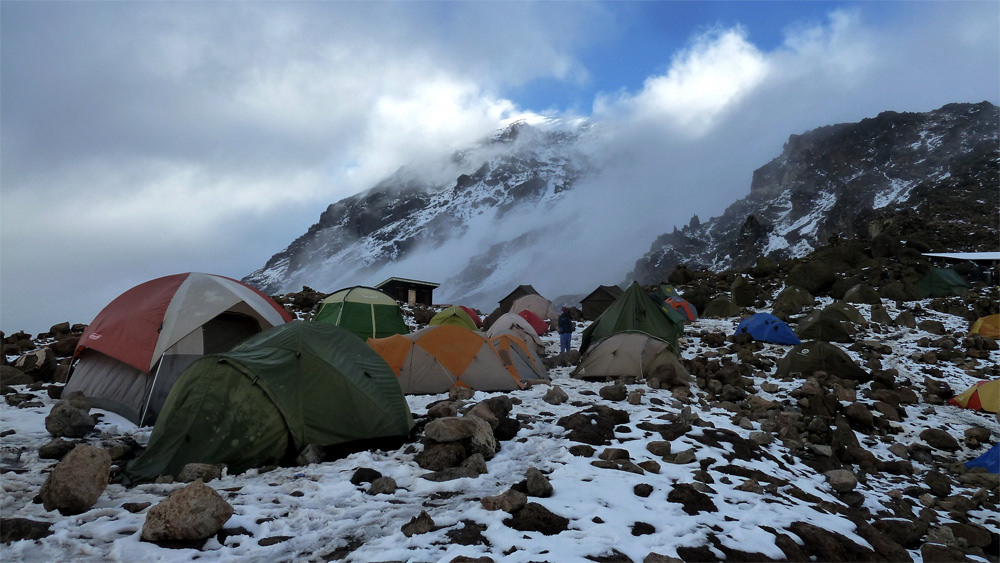 • Distance: 9km
• Hiking Duration: 8-10 hours
• Habitat: Alpine Desert
After breakfast, you'll setout hiking on a steep ridge of the Barranco Wall, to the Karanga Valley. Then strike the junction connects with the Mweka route, before you stretch up to Barafu camp. At this point, you have completed the South Circuit, where offers views of the summit from many different angles. Here you set up the camp, siesta, enjoy dinner and prepare for the summit attempts. This place provides excellent view of Mawenzi and Kibo peak.
NB: You will have an early dinner and take an early sleep prepare for midnight summit.
Barafu Camp 15300ft to Summit 19345ft to Mweka Hut10000ft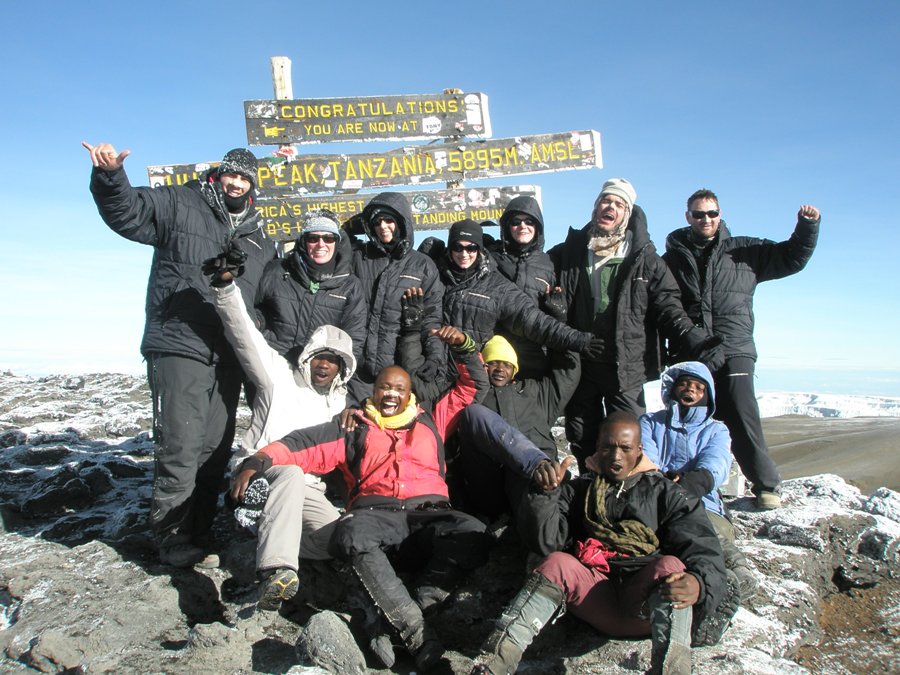 • Distance: 5 km ascent / 12 km descent
• Hiking Duration: 7-8 hours ascent / 4-6 hours descent
• Habitat: Arctic
Your guide will give you a wakeup call, for a cup of coffee thereafter depart around 2:00am (midnight), taking your way to the summit, between the Rebmann and Ratzel glaciers, before turning northwest and ascend through heavy scree towards the crater rim of the Stella Point. This is the most mentally and physically challenging part of the trek.
At Stella Point (18600ft, you will stop for a short rest and will be rewarded with the most magnificent sunrise you never seen before. From Stella Point, you may encounter snow all the way on your 1-hour ascent to the summit. At Uhuru Peak, you have reached the highest point on Mount Kilimanjaro and the continent of Africa. Faster hikers will see the sunrise from the summit. Thereafter you will leave the summit, descent to Mweka, past by Barafu Camp for Hot lunch. Gaiters and trekking poles are needed while walking down for the loose gravel, Mweka Camp situated in the upper forest and mist or rain can be expected in the late afternoon. Later in the evening, you enjoy our last dinner on the mountain and a well-earned sleep.
Dinner and overnight at Stella Maris Lodge.
Mweka Camp 10000ft to Arusha5400ft
• Distance: 10 km
• Hiking Duration: 3-4 hours
• Habitat: Rain Forest
After a breakfast, you set-out descent down to the Mweka Park Gate, to receive the summit certificates. At lower elevations, it can be wet and muddy. Gaiters and trekking poles will help. Shorts and t-shirts will probably be plenty to wear (keep rain gear and warmer clothing handy).
From the gate you will drive to the hotel in Moshi for lunch siesta and overnight stay.
Overnight stay at Stella Maris Lodge
Moshi – Kilimanjaro International Airport
Today you will be transferred to the airport and fly back home or to Zanzibar if more excursions extension will be selected
| VALID FOR TRAVEL | 2020/2021 |
| --- | --- |
| Price for 2-3 People | US$ 1,980 per person |
| Price for 4-8pax | US$ 1,800 per person |
-Rescue fees
-All Park fees, 
-Clean, purified drinking water,
-All transfers mentioned per itinerary,
-Quality Mess tents with table and chairs,
-Guides, Porters, cook salaries and park fees,
-Professional, experienced, mountain guides
-Large portions of fresh, healthy nutritious food.
-Accommodation a night upon your arrival in Arusha and after a trek in bed and breakfast (bb) basis,
 -Tips,
-All Items of Person Nature and Gratuity.
--Excursions and activities not listed in the itinerary.