MAHALE MOUNTAINS NATIONAL PARK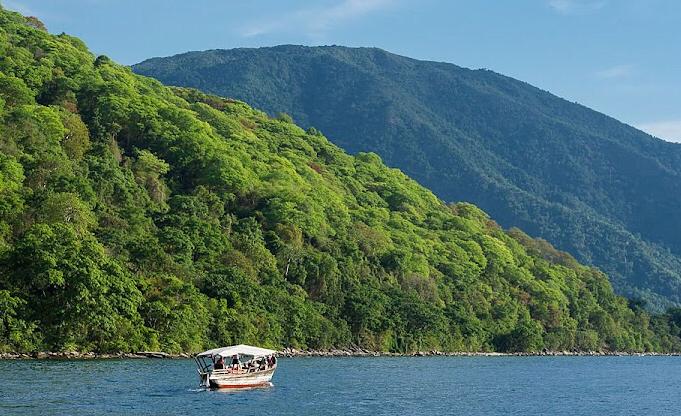 Mahale Mountains National Park is set deep in the heart of the African interior. It is inaccessible by road and only 128 kilometers (80 miles) south of where Stanley uttered that immortal greeting "Dr Livingstone, I presume". Mahale Mountains National Park is home to some of Africa's last remaining wild chimpanzees. There is a population of roughly 800 habituated to human visitors by a Japanese researchers in the 1960s. Tracking the chimps of Mahale is an eye-opening experience.
Mahale's mountain ridge is around 50 kilometers in length and runs across the park from the northwest to the southeast. Mount Nkungwe, raises 2462 meters, the highest point on Lake Tanganyika shoreline. The western slopes of the bridge form a gigantic wall that plunges into the Lake. The lakes enormous depths and numerous rivers cascade down from the mountain tops, carving deep valleys and gorges into their slopes.
One of the unusual things about Mahale's vegetation is the wide variety that it contains. The park is a mosaic of overlapping rainforest, woodland, bamboo forest and grasslands. It can support a unique mix of Flora and Fauna that rely on the various different habitat.
Most of the eastern slopes, the lowland areas to the north and south of Kasoge forest, are covered with a type of woodland known as miombo. Some areas are toppled with expanses of lowland bamboo bush. These areas support Mahale's east African savannah species. The buffaloes, wild dogs and many varieties of antelopes enjoy the bamboo shoots. Vast areas of woodland are intertwined with the riverine forest. It has very similar composition to the lowland, lake shore forest which provides important food sources.
Size: 1613 km2 or 623sq miles where 1517km2 is terrestrial while 96km2 is aquatic habitat
Location: Western Tanzania, 128 km south of Kigoma town along Lake shores of Tanganyika.
-Bird watching
-Game drive
-Walking safari