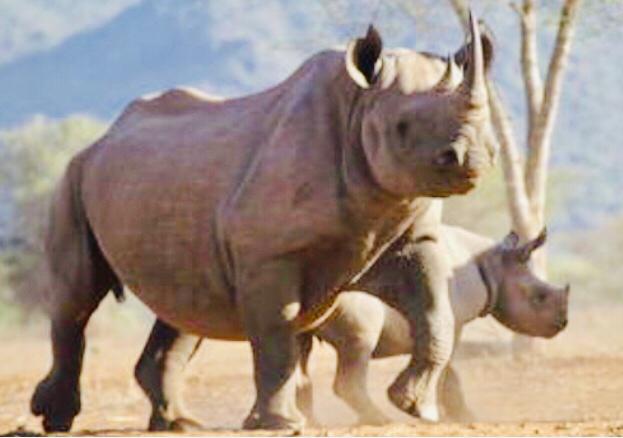 Mkomazi sits below the spectacular Usambara and Pare Eastern Arc Mountain ranges. Overseen by the iconic snow-capped peak of Kilimanjaro. Mkomazi is a breathtaking beauty exhibiting unique natural treasures.  It serves as a much needed bridge between the northern circuit and coastal attractions.
Everyday thousands of people pass within a few kilometers of Mkomazi on one of Tanzania's busiest highways. Safari goers are welcome to discover the treasures of this hilly semi-arid Savannah. Home to one of the largest herds of giraffe, eland, hartebeest, zebra, buffalo and elephant. Mkomazi is a vital refuge for two highly endangered species, the charismatic Black Rhino and sociable African Wild Dog.
Mkomazi supports several dry-country species that are rare elsewhere in Tanzania. These include the spectacular fringe-eared Oryx, with its long horns. The handsome spiral – horned Lesser Kudu. Oddest of all is the Gerenuk, a Gazelle distinguished by its slender neck and unique head. It has a habit of standing tall on its hind legs stretched to reach acacia leaves. 
Mkomazi has been a game reserve since 1951. This new National Park takes its name from the Pare tribe's word for "scoop of water". It is a fantastic destination for birdwatchers, with more than 450 avian species recorded. 
Size: 3,245 sq km (1,240 sq miles)
Location: Northern Tanzania split between Kilimanjaro and Tanga regions. The park also borders Tsavo west National Park in Kenya. The Zange entrance gate is 112 kilometers (69 miles) from Moshi, 550 kilometers (341 miles) from Mwalimu J. K. Nyerere International Airport - Dar es Salaam, 142 kilometers (88.7 miles) from Kilimanjaro International Airport, 120 kilometers (75 miles) from Kilimanjaro National Park – the roof of Africa and 6 kilometers (3.7 miles) from the town of Same.
-Mkomazi Rhino Sanctuary
-Bird watching
-Game drive
-Walking safari
-Hiking
Late June through early September is best for large mammal and bird watching. High/Peak season March – June.