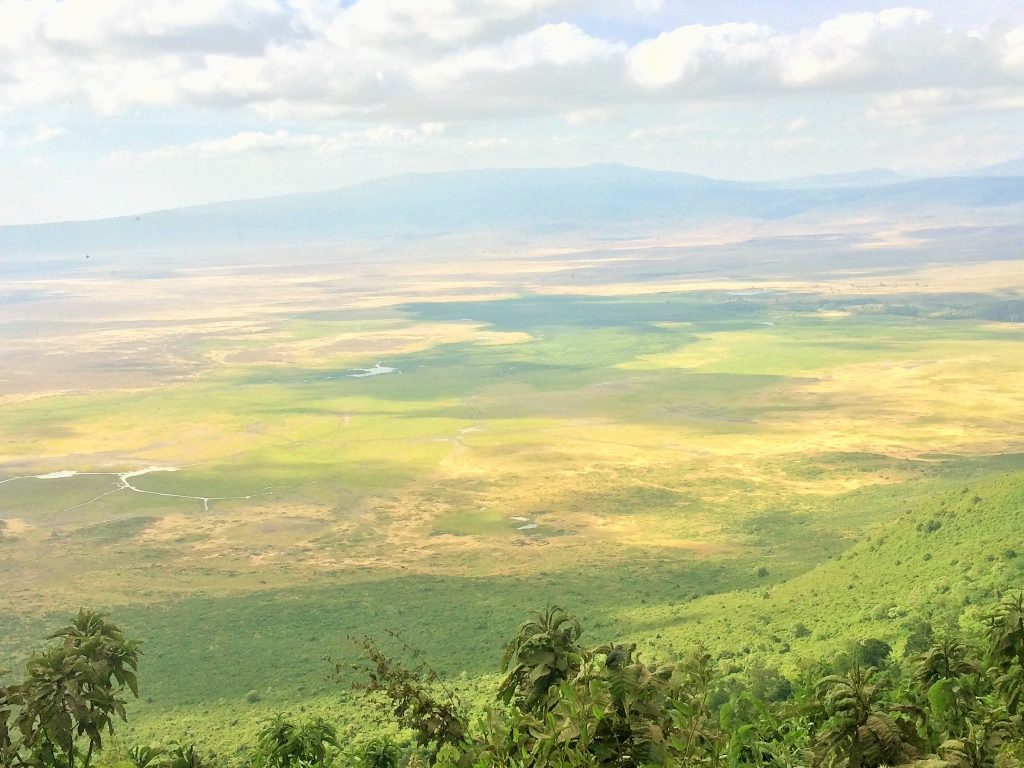 This vast protected area stretches from Lake Natron. Northeast of the lake is home to East Africa's flamingo. Lake Eyasi is to the south and Lake Manyara is to the east. Eight million years ago the Ngorongoro Crater was an active volcano. The cone collapsed leaving a crater that is 610 meters deep, 20 kilometers in diameter, and covers an area of 265 sq km. The crater accounts for just a tenth of the Ngorongoro Conservation Area. The crater is home to many species of wild game and birds. Almost every species of African plains mammal lives in the crater, including the endangered black rhino. The crater has one of densest population of predators in Africa. The bird-life, which includes the flamingo, is mainly seasonal.  The population of birds depends on the ratio of soda to fresh water in Lake Magadi.
Views from the rim of the crater are sensational. On the crater floor, grasslands blend into the swamps, water ways, woodland and mountains. You can descend to the floor of the crater in a four-wheel drive vehicle. Only 4WD vehicles are allowed into the crater.
Its here where the worlds first man lived as per Dr. Leakey's findings. Dr. Louis Leakey, with wife Mary, was a famed paleoanthropologist who greatly contributed to world knowledge about humanity's early ancestors.
Olduvai Gorge
The name Olduvai originates from Oldupai the Massai word for the wild sisal plant in the area. The gorge is situated near the Ngorongoro Crater, the site of some of the most important finds of early humanoid fossils. The gorge is a source of archeological history filled with fossils, settlement remains and stone artefacts.
Lecture tours are offered. Please let us know if you are interested in arranging a lecture tour.
Management:
Ngorongoro Conservation Area Authority
-Bird watching
-Game drive
-walking safari