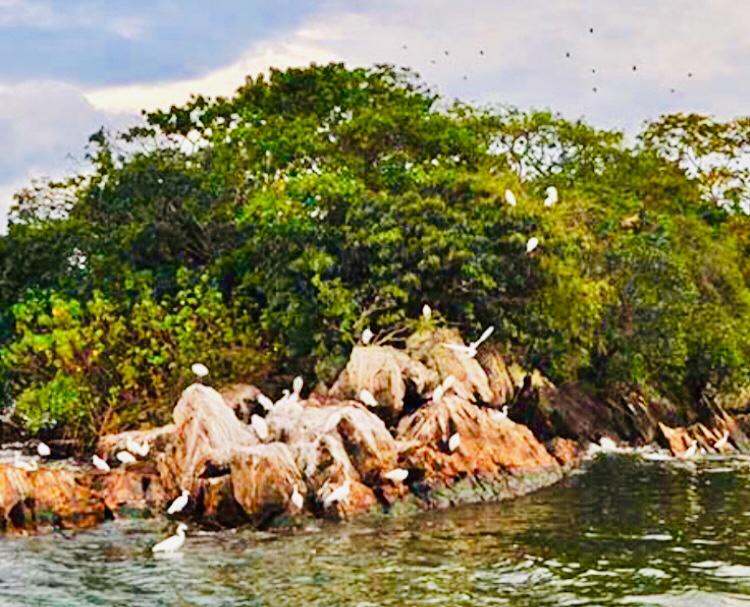 Rubondo Island National Park was gazetted in 1977. It is an important breeding ground for both migratory birds and fish species (especially Tilapia and Nile perch). For a long time it stood to be the only area in the waters of Lake Victoria which were well protected and preserved.
Wildlife
About 80% of the park is covered by a dense forest thus providing a variety of habitats to an array of wildlife. Ranging from savannah, open woodland, papyrus swamps to dense forest. These habitats form a home for various wild creatures such as sitatunga, bushbucks, velvet monkeys, genet cats, spotted necked otters, hippopotamus and crocodiles. Species such as chimpanzees, elephants, giraffes, black and white colubus monkeys, suni and African grey parrots all share this ecological habitat.
The park is famous by holding a variety of migratory birds from different parts of the world. The Emin Pasha Gulf and the African Fish Eagles are native to the area.
Location
The park is located on the south-western corner of Lake Victoria in the Geita region. About 150 kilometers (95 miles) west of Mwanza city. The Lake Victoria is the second largest lake in the world. The Lake is also the source of the longest river in the world, The Nile River.
Size
The park has 456.8 km2 of which 236.8 km2 is dry land. 220 km2 of it is water comprising of 11 small islets of varying sizes. 
• A variety of water birds, Eurasian migrants and introduced African Grey Parrots
• High density of African Fish Eagles distinctly seen
• Animal species including Sitatunga, Elephants, Giraffes, Hippos, Bushbucks, Pythons, Crocodiles and wild Chimpanzees
• Lake Victoria forming a spectacular sight for visitors, with the deepest point in the lake (Irumo) forming part of the park
• Magnificent views of one of the last remaining evergreen lowland the Congolese forest with a unique habitat of high biodiversity value
• Beautiful and attracting beaches such as Fly catcher, Mchangani and Michicoco
• Important gulfs of Irumo and Kamea • Clear sighting of both sun rise and sun set
• Cultural sites such as Ntungamirwe, Maji Matakatifu, Altare and Solo explain the life of natives who once stayed in the park
• Bird Island 
• Crocodile Island
 The guided walks through the awesome tropical forest are tailor-made for every client. The walk duration is from one hour to a full day or multi-day treks,
The island offer canoe safari to uncover marine species, includes hippos, crocodile and birds life.
Encounter the chimps habituation experience is this stunning islands of the world's second largest fresh water Lake, The Lake Victoria!
It's water offers an opportunity to exercise fishing skills by doing spot fishing.
Rubondo Island National Park can be reached both by air and road.
The Park can be accessed by road, an approximately 4 hour drive on the road from Mwanza to Geita and the morum road from Geita to Nkome.
Visitors travelling through this route can be picked up by the park boat at Nkome, and will take a maximum of one an half hours cruising to Rubondo main island (Kageye, the park HQ). Another route is from Mwanza/Bukoba to Muganza/Kasenda village where it takes a maximum of five hours from Mwanza to Muganza/Kasenda and only two hours from Bukoba to Muganza/Kasenda
This route also connects Tanzania with its neighboring countries of Rwanda, Burundi, DRC, Uganda and Kenya. Visitors travelling through this route can be picked up by the park boat at Kasenda village, it will take about 20 - 25 minutes to Rubondo National Park.
Our guests who prefer to travel by air  should book at-list 3 month in advance. Currently, Auric Air is the only airline which has a route to Rubondo from either Mwanza or Bukoba Airstrip. The park has a well maintained waiting lounge with toilet facilities where visitors can wait for the appropriate service upon arrival (being picked up by a vehicle to the point of accommodation) or waiting for the plane/charter during departure.
The Park is open and operates the whole year through. The peak/high season is from July to February. (The best time for game viewing) The low season commences March through June. The park normally opens at 0630am and closes at 1800pm.